See on Scoop.it – Virtual SarVana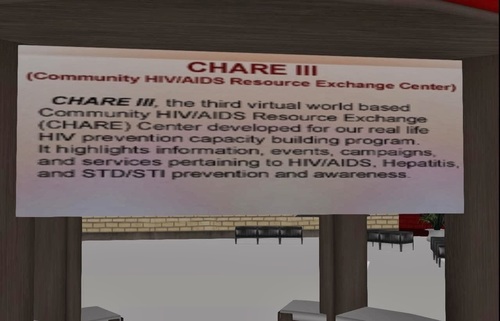 CHARE virtual village provides a co-working, training, and networking space for the real life Community HIV/AIDS Resource Exchange (CHARE) Project and its real/virtual life community partners.
CherryNetwork's insight:
Thank you, Selby Evans (Thinkerer Melville) for visiting and posting about our Kitely-based HIV/AIDS awareness, capacity building, and training project, CHARE Village (http://bit.ly/OdtCbn). It is the virtual-based component of the real life Community HIV/AIDS Resource Exchange (CHAREproject) developed and built as an "out-of-the box thinking" platform for information exchange. As we prepare for the official Grand Opening (April) of CHARE Village and its CHeTARE Project STI Training Laboratory, the recognition for this multipurpose project is truly appreciated and encouraging.
Search This Blog

Previous Blog Posts

Top Clicks

Blogs I Follow
Virtual Photo Gallery

Copyright and Disclaimer

Sarvana's OpenSim Living Copyright© 2009, 2014 Sally S. Cherry, MT(ASCP). All text, images, videos, graphics, and maps are protected under the copyrights and trademarks of the respective owners.

The opinions and thoughts expressed in Sarvana's OpenSim Living postings are those of the author unless otherwise noted and are not representative of any organization or other third parties mentioned within the postings. The external links were provided for informational purposes only. No warranty, express or implied, nor any legal liability is assumed for the accuracy or usefulness of any linked content, service, and/or product offered via the external links or for any consequences resulting from the use or access of any external link. Thank you for visiting!